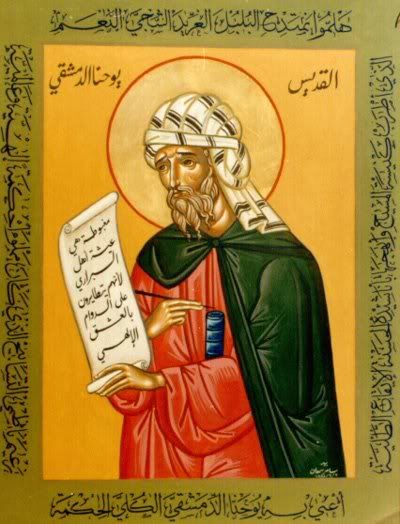 The superstition of the Ishmaelites which to this day prevails and keeps people in error, being a forerunner of the Antichrist. They are descended from Ishmael, [who] was born to Abraham of Agar, and for this reason they are called both Agarenes and Ishmaelites. They are also called Saracens, which is derived from Sarras kenoi, or destitute of Sara, because of what Agar said to the angel: 'Sara hath sent me away destitute.' These used to be idolaters and worshiped the morning star and Aphrodite, whom in their own language they called Khabár, which means great. And so down to the time of Heraclius they were very great idolaters. From that time to the present a false prophet named Mohammed has appeared in their midst. This man, after having chanced upon the Old and New Testaments and likewise, it seems, having conversed with an Arian monk,  devised his own heresy…..continued…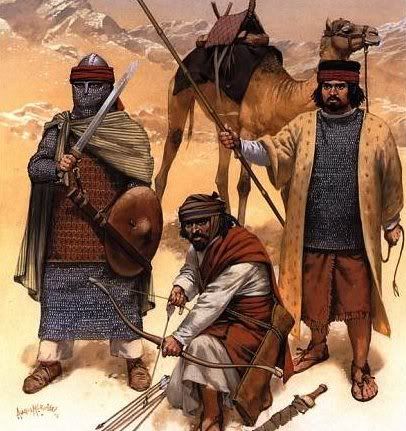 Muslim "missionaries"
But when we ask: 'And who is there to testify that God gave him the book? And which of the prophets foretold that such a prophet would rise up?'—they are at a loss. And we remark that Moses received the Law on Mount Sinai, with God appearing in the sight of all the people in cloud, and fire, and darkness, and storm. And we say that all the Prophets from Moses on down foretold the coming of Christ and how Christ God (and incarnate Son of God) was to come and to be crucified and die and rise again, and how He was to be the judge of the living and dead. Then they reply that the book came down to him while he was asleep. Then we jokingly say to them that, as long as he received the book in his sleep and did not actually sense the operation, then the popular adage applies to him (which runs: You're spinning me dreams.)
They furthermore accuse us of being idolaters, because we venerate the cross, which they abominate. And we answer them: 'How is it, then, that you rub yourselves against a stone in your Ka'ba and kiss and embrace it?' Then some of them say that Abraham had relations with Agar upon it, but others say that he tied the camel to it, when he was going to sacrifice Isaac. And we answer them: 'Since Scripture says that the mountain was wooded and had trees from which Abraham cut wood for the holocaust and laid it upon Isaac,  and then he left the asses behind with the two young men, why talk nonsense? For in that place neither is it thick with trees nor is there passage for asses.' And they are embarrassed, but they still assert that the stone is Abraham's. continued….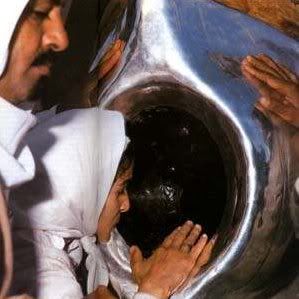 Then we say: 'Let it be Abraham's, as you so foolishly say. Then, just because Abraham had relations with a woman on it or tied a camel to it, you are not ashamed to kiss it, yet you blame us for venerating the cross of Christ by which the power of the demons and the deceit of the Devil was destroyed.' This stone that they talk about is a head of that Aphrodite whom they used to worship and whom they called Khabár. Even to the present day, traces of the carving are visible on it to careful observers. (Must Read: St. John of Damascus on Mohammedism)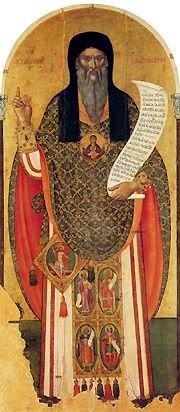 St. John, Pray for us, pray for Christians living in Muslim countries, and the conversion of the Ishmaelites to the One True Faith. Amen.
The below video is from a few years ago, when Our Holy Father spoke the truth, causing the whole  "Regensburg Affair". But, just in case you have never seen it..